Do you love the bacon we use on Temple's Homemade Breakfast Biscuits? Did you know you can order it by the slab?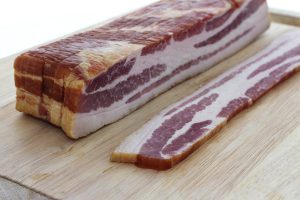 It's true.
As our loyal customers know, we take great pride in the items we carry. So we don't use just any bacon on our biscuits. We use the best, thick cut bacon we can find. We love it because it's always nice and fresh AND it's a sustainable (eco-friendly) product. Sometimes our customers want to know where they can get it to enjoy at home.
The simplest place, is from us.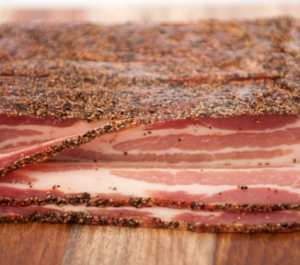 We order the thick cut bacon for our breakfast biscuits from a local grocery company about twice a week. Customers are welcome to place orders for the bacon with us for pickup, as well. The original thick cut bacon we use on Temple's Homemade Breakfast Biscuits is available in 10 lb slabs. It is also available in 5 lb slabs of pepper coated bacon (my personal favorite). The pepper coated is also available from our cold case as you enter Sunnyside.
Have you tried our thick cut bacon? Which one is your favorite?
Love this post? Give us a like and a share! We'd sure appreciate it.