I'll be honest. I hate fried chicken. It's not just fried chicken, really. It's all chicken. Give me any other bird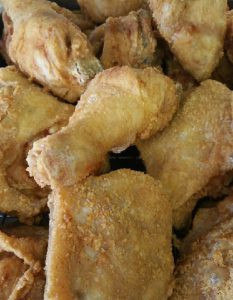 and I'll be fine. Turkey, duck, quail, even ostrich. But I don't like chicken. So when my dad (Temple) said he wanted to start selling fried chicken at Sunnyside, I was far from interested in it.
My dad would not let the chicken thing go. He kept talking about doing chicken. He researched it. He planned for it. He even got two of the original employees to teach him everything there is to know about frying chicken. He was serious and I was annoyed and still uninterested.
Then my dad bought the equipment to fry chicken.
At this point I knew he was serious. For about a week, my dad practiced frying chicken, what seemed like constantly. He fried and tested, fried and tested. Each time he supposedly got a little better (I wasn't willing to taste test). Then one day he said "you have to taste this."
We owe much to the original ladies at Sunnyside. Before them, we knew nothing about chicken. My dad grilled some pretty well at home, and that was about it. I never bought chicken, cleaned chicken, or cooked chicken. Needless to say, I knew absolutely NOTHING about chicken. And I didn't want to. The ladies at Sunnyside taught us all of this. And thank goodness they did.
There's plenty more to chicken than just frying it.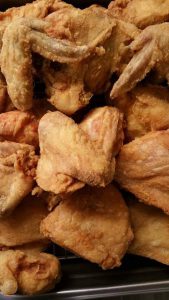 Without going into too much detail, there's quite a few steps that happen before dropping chicken into the fryer. This is true even if you buy your chicken pre-cut for frying at home. Our chickens, however, come in fresh from the farm every week, twice a week. We process our chickens our self; a timely step that is worth it in the end. We also prep our secret breader, keep our fryers nice an clean, and use fresh oil, so your chicken always comes out tasting as delicious as the first. We knew we wanted to create a quality, consistent, delicious fried chicken for our customers. If it weren't for those original ladies, we would have never learned how to do this. Thank you.
So back to the taste taste.
I was skeptical. In fact, if one of the ladies hadn't been standing next to my dad ensuring me he actually did a good job, I probably wouldn't have tasted the chicken. It wasn't him. I just don't like chicken. Much to my surprise, it was actually good. It was more than good. It was the best chicken I'd ever tasted. I actually wanted to eat it.
We haven't changed a thing since.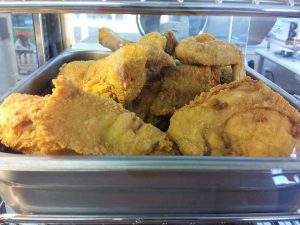 Our chicken still comes in fresh every week. We still do all the prep work. We still use the same secret breader. We still keep the oil nice and clean. Most importantly, we still make sure our chicken is cooked fresh, so you can enjoy it without worry.
We know we aren't perfect at Sunnyside. Every so often a we do mess up an order. Our chicken makes up for that, though. Trust me! Between my dad and the original Sunnyside ladies, we have a product that's here to stay. That doesn't mean you have to wait to try it, though.
Our Sunnyside Fried Chicken is served fresh every Friday and Saturday for lunch and dinner. You can stop in for a piece or call in for an order. It goes great with out sweet cornbread too.
What's your favorite way to enjoy Sunnyside Delicious Fried Chicken?
Love this post? Give us a like and a share! We'd sure appreciate it.