There's one thing my dad (Temple) absolutely knew we would have at Sunnyside when we reopened in 2012: breakfast biscuits. They were a Sunnyside staple in the 90's and I think they may be his favorite part of our store.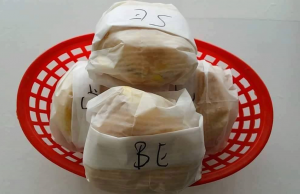 I can't say I quite understand my dad's dedication to our biscuits. Don't get me wrong; they're absolutely delicious. A few of our customers can barely start their day without one of Temple's Homemade Breakfast Biscuits and a hot cup of Sunnyside Premium Coffee. Maybe that's what makes them so special to him.
Every morning my dad gets up way before the sun comes up to prep for the day at Sunnyside. He's slow moving, but something between bed and leaving the house gives him the motivation to put a little pep in his step. By the time he reaches the door at our store, he's ready to go. An couple hours or so later, fresh breakfast biscuits are waiting for the first customer.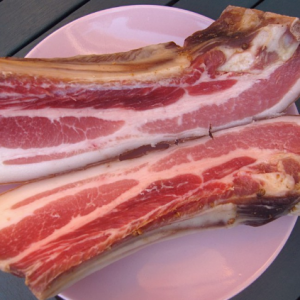 My father takes great pride in everything he does. His cooking is nothing different. To him, it's not just about the appearance of the biscuit. It's about all of it. He ensures premium sausage, thick-cut bacon, and fresh eggs go between those flaky layers of biscuit dough. He makes sure the chicken for the chicken biscuits is consistent and meaty. He wraps every single sandwich in a way I have yet to perfect.
He cares about the breakfast biscuits because he cares about our customers.
My dad is something else. If you've met him, you know there's no one else in the world like him. His unusual whit, infectious laughter, and attention to detail shine through in all he does. He may not always show it, but he knows our food is sometimes the only thing that will make a customer smile that day. Therefore, he wants it to beyond good. He wants is to be memorable. And memorable they are.
When I was growing up, my dad made breakfast biscuits almost every Sunday before we went to church. I still remember watching him in the kitchen, mulling over every detail to make a perfect breakfast for he and I. It's the same c

are he takes every single morning to bring a wholesome breakfast to our customers.
Temple's Homemade Breakfast Biscuits taste different because they are different. Remember that thick-cut bacon and sausage I talked about earlier? He orders that specifically for our biscuits. He even orders country ham for those who want a biscuit that tastes like home. Whatever meat your biscuit is topped with, you won't be disappointed.
Have you tried Temple's Homemade Breakfast Biscuits? Which one is you favorite? Comment below.
Love this post? Give us a like and a share! We'd sure appreciate it.